Vitamin C is one of the most effective ways for a limescale and chlorine-free shower, and helps with hair loss.
The cartridges will last an average of 2 months with typical usage and water quality. You can see exactly when the Vitamin C level has finished as the filter container is see-through.
No other shower filters tell you exactly when to change the filter! The vitamin C chemically destroys toxins and is the most helpful product for skin problems in relation to the treatment of water as part of the solution. Vitamin C nourishes the skin.
If you would not eat it, do not put it on your skin! Vitamin C cleans the toxins on your skin and hair and nourishes it at the same time. You can replace chemical soaps and things you would not eat, with washing yourself with Vitamin C to avoid the toxins being carried into the blood.
The Osmio Vitafresh Handheld Vitamin C Shower Filter makes your shower heavenly! Its super easy to fit yourself in seconds and right away you will be enjoy a toxin free shower! We use pharmaceutical grade vitamin C which chemically destroys toxins and has a wonderful effect on skin and hair. Your skin is one of your main mechanisms to excrete toxins from the body, and vitamin C makes easy work of those! Feel your skin and hair become revitalised with the Osmio Vitafresh Handheld Vitamin C Shower Filter! Order one today!
Key features
Unlike any other filters out there, the level of vitamin C in the filter cartridge shows you the precise level so you know exactly when to change it
The stainless steel spray improves your water pressure by up to 600%!
The shower filter will save you water
SOLVES LOW SHOWER PRESSURE PROBLEMS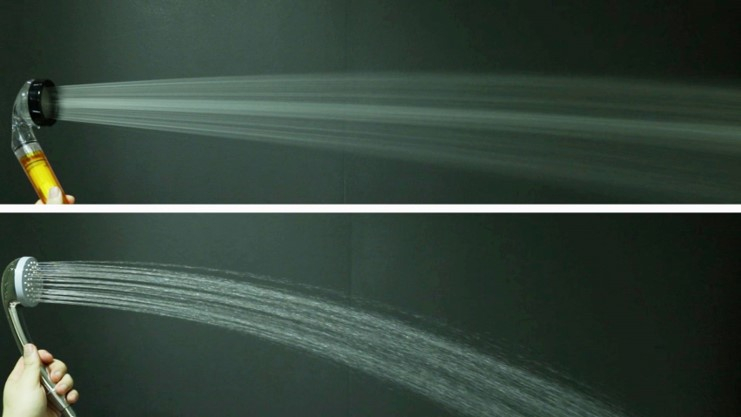 One gram of ascorbic acid will neutralize 1 milligram per liter of chlorine per 100 gallons of water. The reaction is very fast. The chemical reaction (Tikkanen and others 2001) of ascorbic acid with chlorine is shown below:
C5H5O5CH2OH + HOCL → C5H3O5CH2OH + HCl + H2O
Ascorbic acid + Hypochlorous acid → Dehydroascorbic acid + Hydrochloric acid + water
Approximately 2.5 parts of ascorbic acid are required for neutralizing 1 part chlorine. Since ascorbic acid is weakly acidic, the pH of the treated water may decrease slightly in low alkaline waters.