Osmio Zero Reverse Osmosis System – Smart and highly efficient reverse osmosis water filter and kettle that will produce high-quality water with no installation and super easy user maintenance.
Highly recommended for households or workplaces with 4 people or less. By not being installed, the Osmio Zero is the most hygienic reverse osmosis system because it is not connected to a smell drain.
Available in BLACK and WHITE, use the selecting above to choose your color. The black finish is a painted finish and needs to be handled with care. Use only a damp cloth to clean it. It also can chip on impact – so care needs to be taken when operating the unit.
Water Temperatures
The system can provide the following osmotic level water with organic calcium and magnesium active ceramic:
Normal temperature water (approx. 25 ° C), ideal for direct drinking
Warm water (40 ° C – 50 ° C) ideal for lukewarm water
Hot water (80 ° C – 88 ° C) ideal for coffee
Nearly boiling water (90 ° C – 98 ° C) ideal for tea – PLEASE NOTE – the system reaches 100% but then travels through the route to the dispenser and loses some degrees. By using a thermometer at the very top where the water comes out, you will measure around 92- 95°C. A great tip for hotter dispensing is to first select 100°C Setting, and let the water get hot, and make your mug hot. Then press stop and empty that out, then go again with a new 100°C press and the results are much better.
Disclaimer: Information on temperatures is for guidance only. Please follow the preparation method stated on the packaging or given by your midwife when preparing baby formulas or any other solutions.
Portable water filter, countertop water dispenser, best kettle ever!
✓ The only pure water kettle on the market and 80% more energy-efficient than a regular kettle!
✓ Simply plug and play! No need for any installation! So easy!
✓ Thousands of times purer than traditional gravity filters or jug filters. The most efficient RO in the world, only 1 litre of waste for every 5 litres of water!
✓ Replaces your kettle by also producing reverse osmosis quality water, ambient, warm, hot or boiling at your fingertips!
✓ Filters cold water and has a boiler for dispensing instant nearly boiling water

✓ Very compact and can be put anywhere
✓ Uses flow monitoring to detect filter life and alarm, plus fail safe built in to never dispense bad water.
✓Customers from Ireland, Austria, Belgium, Czech Republic, Denmark, France, Germany, Netherlands, Luxemburg, Slovakia, Slovenia, Spain, Italy, and Hungary, can also take advantage of the above warranty terms but they must send their system back to us to do this (no free returns) and we will cover the cost of shipping back out.
How to recycle and dispose of Osmio Zero water filters 
Quick-Change activated carbon filter and Quick-Change membrane 50GPD filter: these two filters can be placed in plastics recycling. However, the bottom of the filters will first need to be cut open using a hacksaw. The carbon and membrane elements can then be removed and thrown into the bin before placing the filters in recycling.
Quick-Change Sediment filter: This can simply be placed into the plastics recycling.
Quick-Change Insertion filter: This filter should again be cut in half and the contents emptied out into the bin before recycling the plastic exterior.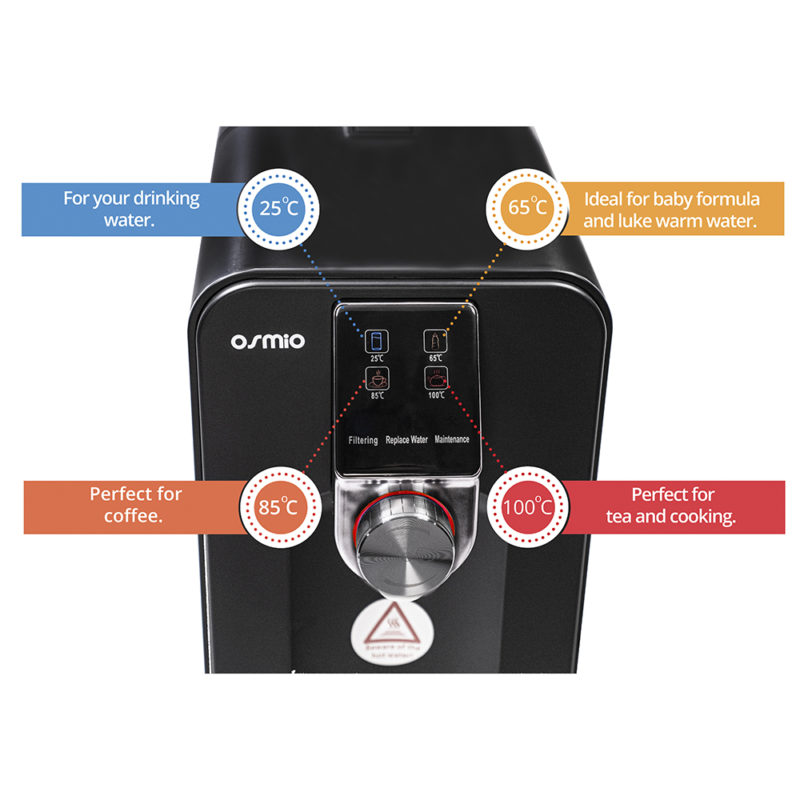 It's just so good! There is nothing else like this on the market. It solves the cost and time of installation and you can take it anywhere and have it in any room. It's really easy to fill up the water, you just take out the tank, fill it and pop it back in. The unit is completely stand-alone with no connection to the drain.
It makes the perfect choice anyone who wants the convenience of a top of range purification system with no installation and also for single people, students or small families, people who regularly travel and who are currently renting their property and cannot have a system installed on tap.
The unit is incredibly easy to use and assemble. Simply take it out the box, plug it in and fill the supply pitcher. Place it back into the system and turn the dial to adjust the temperature and press to dispense and stop, that's it! Within minutes you will have reverse osmosis quality water, ambient, warm, hot or boiling at your fingertips!
Warranty
3-year free repair warranty for customers in the UK (free returns)*. 
Customers within the Northern Ireland, Republic of Ireland as well as the following EU coutries: Austria, Belgium, Czech republic, Denmark, France, Germany, Netherlands, Luxemburg, Slovakia, Slovenia, Spain, Italy, and Hungary can also take advantage of this service but they are required to ship the system to us (no free returns). 
We also offer repairs after 3 years for a small cost.
*Please see section 7 in the manual for warranty terms.
There is optional 5 years extended warranty available. 
Please note: There is potential for the Osmio Zero to drip and for there to be a small amount of water underneath the system. This can be worse if the supply tank is allowed to get very dirty and with limescale buildup. So if you have a wooden, untreated worktop, it is recommended to put the system on a tray to avoid damaging the worktop. If you have a laminate or granite worktop this would of course not be a significant problem. It is recommended to clean the supply tank periodically and descale it, plus use a cloth to soak up and water that comes out from the tank connection at the base during supply tank refills. 
Filter change frequency
If you have a hardness level of around or over 250 Calcium Carbonate then you may need to change the carbon block and membrane more frequently than every 6 months. The unit is designed to shut off if there is a blockage in the membrane or prefilters. As the system recirculates the rejected water from the membrane, the TDS level continually rises of the water entering the membrane filter. Therefore, for those with water of higher TDS, more frequent carbon block and membrane changes are likely. It is recommended to have at least a spare carbon filter and membrane on hand with the unit at all times. 
The first thing to note is that the system is amazingly easy to use and maintain and as Osmio, we have spent great investment into the product and our culture is customer care. We are passionate about our products.
The system is designed with ease and practicality in mind. The unit has a very simple user interface. Water comes with the turn of a dial and there is no complicated user manual needed. The system is fully portable and just needs to be plugged into a power supply. It does not need to be installed into household plumbing. Any water source gives you easy access to fresh and healthy RO pure water at any time.
Changing the filters is really quick and easy. They come off and go back on with a simple twist function.
The colour coded LED instantly shows when the filtration has completed. The intelligent, automatic, power-saving motor design, gives instant supply of filtered water, and automatically shuts off when filtration is complete.
An ideal investment for small households! There is just the need to plug it into a normal power supply. Only a power connection via a simple plug socket – done!
The system has an automatic shutdown mode, after 1h the device switches off automatically, so you save power!
Filter Stages
1 – Quick-Change Sediment Filter 5μm: removes coarse particles, e.g. Sand, rust, chlorine, lime
2 – Quick-Change activated carbon filter: removes chlorine and organic impurities
3 – Quick-Change Membrane 50GPD: removes all pollutants and flavours to almost 100%
4 – Quick-Change Insertion Filters: Hygiene After-filter antibacterial calcium and magnesium bioceramics, adding a small 10-20 ppm of minerals.